The Division débarque aujourd'hui
Ca y est, le voilà il est là! Le nouveau jeu de tir stratégique / RPG en monde ouvert d'Ubisoft, The Division, débarque mardi matin sur PS4, PC et Xbox One!
C'est quoi The Division?
Lancé cette nuit, Tom Clancy's The Division est un multijoueurs en monde ouvert de tir tactique et d'action-RPG développé par Massive Entertainment, Ubisoft Reflections, Red Storm Entertainment et Ubisoft Annecy. Le but est de survivre dans un environnement hostile et ravagé par une maladie s'étant propagée lors du Black Friday via l'argent, ce qui a provoqué la chute des États-Unis en seulement cinq jours. L'action se passerait deux semaines après la catastrophe à New York. Le joueur incarne un « agent de la division » (The division) ayant survécu a la première vague et qui doit établir une base et « reprendre » la ville de New York qui est en proie au chaos depuis la mise en quarantaine de la ville pour stopper la propagation du virus.
Des petits soucis de serveur au lancement du jeu
Il y aurait, à l'heure où sont rédigées ses lignes, des problèmes de stabilité au niveau des serveurs de The Division. Ce qui fait que le jeu serait inaccessible dans la matinée du 8 mars.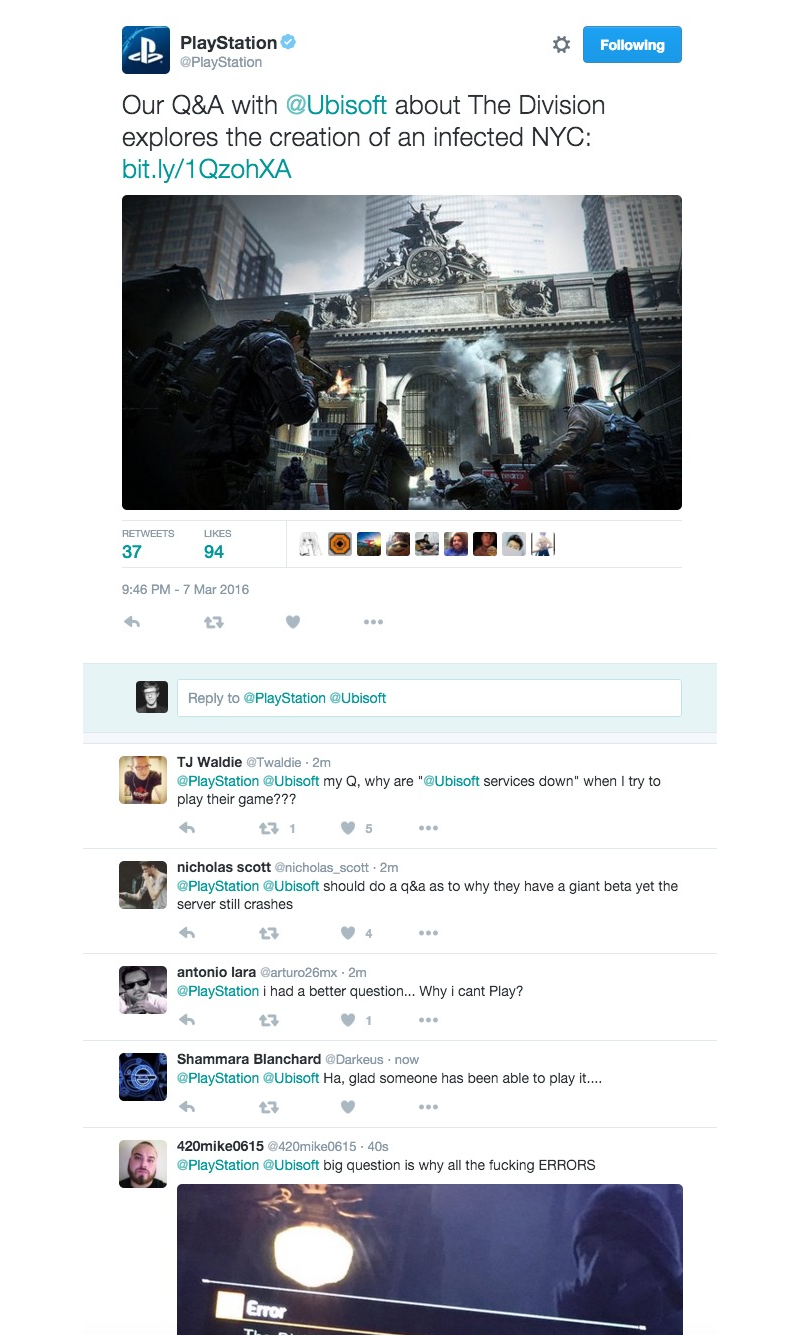 Selon des informations de jeuxvideo.com, les serveurs seraient en train de se rétablir aux alentours de 10h20 mardi matin.
« 10h20 : Le temps que cette news soit rédigée et mise en ligne, Kaaraj nous prévenait que de son côté, les serveurs semblaient fonctionner de nouveau. Nous vous tiendrons informés de l'évolution de la situation ».
3 DLC annoncés avec un Season Pass pour The Division
Le nouveau jeu de tir d'Ubisoft proposera trois packs d'extensions (DLC), inclus dans son Season Pass. Chacun de ces packs ajoutera du contenu au jeu comme des nouveaux équipements et des nouveaux styles de gameplay.

La première extension s'appelle Souterrain, et se déroule dans les sous-sols de la ville de New York. La seconde, Survie, demandera aux joueurs de survivre dans un environnement hostile qui proposera un défi à la hauteur des joueurs les plus hardcore de The Division. Enfin, le troisième, Baroud d'Honneur, n'a que son nom de révélé.

Le Season Pass est disponible dès le lancement, mardi matin, ce qui donne accès aux joueurs à un fusil à pompe à canon scié exclusif ainsi que de nouvelles tenues et de nouveaux skins pour les armes. Enfin, ceux qui possèdent ce Season Pass, auront droit à des drops mensuels ainsi qu'à des événements et avantages exclusifs. Et ceux qui n'ont pas de Season Pass ne sont pas délaissés pour autant, ils peuvent toujours recevoir les mises à jour gratuites tout au long de l'année.Toutefois, des packs d'extension ont une exclusivité temporaire sur Xbox One.